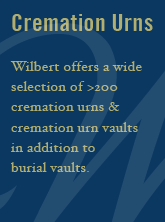 Personalization
Wilbert offers multiple ways to personalize a burial vault or urn vault with words, symbols, and images that speak of a singular spirit. Your loved one had a unique personality. The selections you make for the visitation and service should communicate that singular spirit. These choices ensure your loved one's memory is remembered for generations to come.
Site Credits
Peacock Marketing Group is a marketing services organization in Greenville, SC that managed the production of this website. Responsibilities included developing the website strategy, developing menu structure and organization of site, working with a designer to develop a look and feel, creating and/or editing content, working with the web developer to build the site in a live environment, testing the site and forms, optimizing key words, managing the timeline and budget, and officially launching the website. Peacock Marketing Group served as the project manager, building the strategy and ensuring all the pieces came together on time and under one roof.
Peacock Marketing Group specializes in website creation, search engine optimization (SEO), Google Pay-Per-Click (PPC) ads, PR, email campaigns, and logo creation/company branding. We have extensive experience in additional marketing areas as well, but the previously mentioned categories are where we are currently spending most of our time.
Peacock Marketing Group is dependable, cutting-edge, aggressive, and has all the resources you need to succeed in marketing communications. We are a small, hands-on, boutique organization and our ultimate goals are to create and measure marketing success and to make your life easier. Marketing shouldn't be painful, time-consuming, or difficult. Contact Peacock today and sit back and relax tomorrow.
For more information, call 864.569.5949 or visit www.peacockmarketing.net.
House of Tech provides web design and web development services for individuals and small to medium sized businesses. Check out our portfolio and our web services to get an idea about how we work with collaborating firms to deliver a professional web site.